With the help of a patient lift, caregivers in private homes, nursing facilities, and hospitals can assist the patient or residents with limited mobility stand, sit, or move between chairs, beds, and rooms. Patient lifts are essential as they minimize the chances of injury for both caregiver and patient by providing comfortable, safe, and convenient transfers.
For caregivers and homeowners who may need to move their patients and loved ones about, portable lifts can be a great solution for the home. This is especially true when considering cost, available space, the length of time the patient will need the lift, and the level of modification that can be done on the building or home. Many people opt for a portable lift, rather than a ceiling lift that is mounted to the structure or an overhead track system, due to the lower cost, the compact size, the ability and ease of using it short- or long-term, and the fact that minimal to no permanent modification is needed to the home.
Portable patient lifts for the home are available in a few different styles and are suitable for bedridden patients, wheelchair users, disabled individuals, those who have had lower limb surgeries, and older adults with a decreasing ability to be mobile. Using an assistive device like this to move them from bed to chair, from chair to stairlift, or from bathtub to chair, can be life changing. But how do you know which one is the best solution for your needs?
If you are looking for a portable patient lift for your home, this comprehensive guide to buying portable patient lifts will help you choose the right lift for your situation. 
Factors to Consider when Buying the Best Patient Lifts for Home Use
Before settling for a particular model, you need to analyze a number of factors. These factors include:
Electric or Manual Patient Lift?

 

A manual lift uses hydraulic pumps, and movement will rely on the power provided by the operator. On the other hand, the electric patient lift uses a motor powered by a battery. Manual patient lifts cost less because they have fewer parts, with no motors, batteries, electronic parts, and hand controls. This makes them easy to control, although they require more effort compared to their electric counterparts.
Size —

 

Portable patient lifts for homes are available in a wide array of styles and sizes. Ensure the model you settle on is not too big for your bathroom, bedroom, or any area in your house. As such, it is vital to take precise dimensions of the rooms you intend to use and the means of transporting it from one place to the other. Also being aware of permanent obstacles such as ceiling fans is imperative. This will ensure that your preferred patient lift can easily accommodate your space.
Maneuverability —

 

It's important to understand the maneuverability of the lift you select to ensure it works for the space, getting the individual where they need to go, and the ease to get them there. Being able to maneuver the lift around in a bedroom and bathroom to get to the patient can be tricky, so making sure the lift can get to the necessary places and spaces needed is incredibly vital. Also, being aware of the design of the home is key. Functional aspects such as carpet can create difficulties when operating portable rolling patient lifts. 
Reach —

 

Much like maneuverability, reach is an important factor when deciding which lift is right for you. Different portable home lifts offer different ranges of reach. For example, portable rolling patient lifts reach where you place and position them, whereas others have an arm that extends to cover a certain area. Ensuring you have the proper reach to perform the necessary transfers for your patient is essential. 
Height —

 

How low or high do you need to lift and lower your patient? Even though most patient lifts are more adjustable than ever, confirming that your preferred device meets your height requirements is incredibly vital.
Weight —

 

Patient lifts have a maximum weight capacity. Make sure you select one that comfortably supports the weight of your patient. 
Safety Features —

 

If you prefer an electric portable patient lift for the home, it's vital to ensure that it has safety features such as an emergency control button or manual override. This allows you to safely move or lift the patient if the machine runs out of power.
An Ideal Portable Patient Lifts for Home Use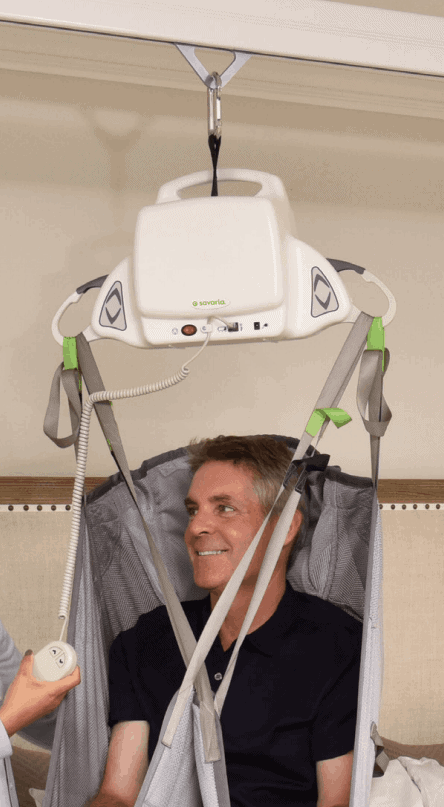 SAVARIA PORTABLE PATIENT LIFT MOTOR BY EZ-ACCESS
EZ-ACCESS carries a highly versatile patient lift that is an ideal solution for most patients and homes. This lift is one-of-a-kind and has a unique design that meets an incredibly wide range of needs. Paired with an electric motor and a sling fit for your loved one, this patient lift hardly takes up any space, yet offers immense maneuverability and reach thanks to its 360-degree pivoting stanchion and 5' articulating arm that covers an area with a 10' diameter. The arm can be set to various heights to accommodate the lifting needs of the individual and it can carry up to 440 lbs. 
This revolutionary patient lift has a small footprint so it requires minimal modification to the home and it's non-obtrusive to the room that it is placed in. Long gone are the days when needing bulky, intrusive, and institutional-looking medical equipment in the place that you are supposed to feel the most comfortable. 
To learn more about this lift, head over to the product page on our website.
In Conclusion
Portable patient lifts for homes help lift, position, and move patients who cannot mobilize themselves independently. They make it easier for caregivers to take care of their loved ones while minimizing the chances of injury for both parties.
These lifts are available in a wide array of styles, which is why it is imperative to determine the patient's needs, your abilities, and your home's layout before purchasing a portable lift. If you are purchasing a lift for the first time, make sure to give us a call and we can help you navigate this experience. 

Special thanks to the experts from our partner, EZ-ACCESS for these tips!