Are you looking for a high-quality and convenient folding portable ramp for your business?
While the pros and cons of portable wheelchair ramps are numerous, this article focuses on the advantages of folding portable ramps. Understanding these pros can assist in your decision-making process. Keep reading to learn more about the advantages of owning a portable folding ramp!
1. Convenience
A folding portable ramp eliminates the need for worrying about loading and unloading heavy, cumbersome ramps each time you need access to a vehicle or need to load/unload your mobility device. With a folding system, you can simply deploy the ramp when you need to get in or out of a vehicle then fold it and stow it away when finished. The same goes for loading and unloading. 
2. Cost
While in-floor wheelchair ramps that are built into the vehicle seem appealing because of their storage capability, they are also incredibly expensive and could require costly maintenance to keep it functioning properly. Therefore, if you are on a budget then a folding ramp is an incredibly economical choice while still receiving a safe and high-quality product.
3. Easy to Use
Portable folding ramps are about as simple at setting it in place and unfolding it for use. There's no assembly required making them easy to use wherever you go.
4. A Variety of Lengths for the Right Angle
For most wheelchair users, having a high angle on a ramp causes many issues including loss of balance and uneven stability which can lead to falling over or sliding back down the ramp. For those with manual wheelchairs, a high angled ramp could be difficult to push yourself into the vehicle. However, with portable folding ramps and their variety of lengths available, you can be sure to secure one that will offer the ideal incline for your application. If that application happens to be with your vehicle, one tip we have is to use the vehicle's kneeling feature if it does boast that, so the incline angle when entering and exiting will be even less steep. 
5. Require Less Maintenance
Folding portable ramps are a better option for most than in-floor ramps because they require a lot less complex and costly maintenance to remain in good condition. Dirt, rubble, and gravel can simply be brushed off of a portable folding ramp. There are no electrical components involved in portable wheelchair ramps so there's no worrying about whether your lack of continuous maintenance will keep you from using your trusty ramp.
6. Space Saving
These ramps are designed to fold in half, and some even fold into a fourth of their useable size, which makes them advantageously compact. This is ideal when needing to take a ramp with you for on-the-go access. They can be stored in a coat closet, your vehicle, and other small spaces.
7. Strong and Durable
Folding ramps are commonly chosen over other styles due to their compact design, lightweight nature, and ease of use, but they also boast durability and strength. This is especially important when searching for a ramp that should last for years to come, and work for numerous uses and in inclement weather. When searching for a strong and durable ramp, the best options will not only easily support the weight of the user, but also the weight and width of the wheelchair, motorized scooter, or other mobility device being used. Aluminum is an excellent option since it is both lightweight and durable, offering great stability, strength, and weight capacity. 
8. Versatility
A portable wheelchair ramp can be a surprisingly versatile component. Since they are designed to be suitable for indoor and outdoor use and compact, they can be used to enter and exit homes, vehicles, buildings, and more and can help those with mobility issues navigate curbs, stairs, and other raised areas.  
There are countless benefits to utilizing portable wheelchair ramps outside to get up curbs, steps, or into and out of a vehicle, and inside to easily maneuver up to small areas. With these types of ramps providing endless independence for users with automobiles, you can start improving your lifestyle with a portable folding wheelchair ramp today!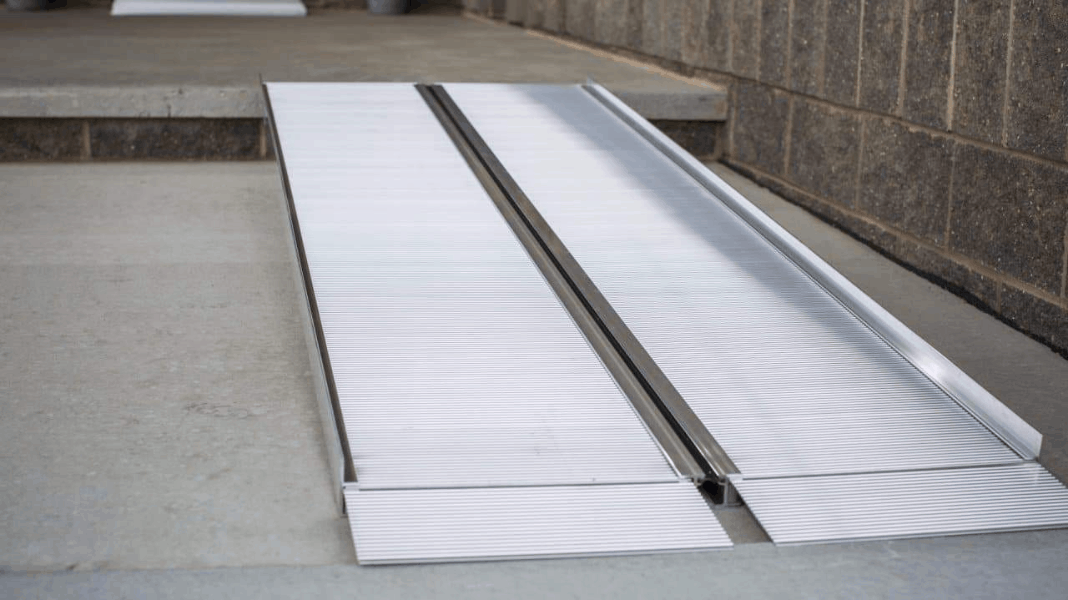 9. Suitcase-style Ramps
One of the most innovative options is the suitcase-style ramp from EZ-ACCESS, which is constructed from lightweight aluminum and is connected by a hinge that can be folded and transported like a suitcase for the ultimate level of convenience. A major portable SUITCASE® ramp advantage is they come in several different styles so you can be sure to find the right one to match your accessibility needs. Check out the SUITCASE® Singlefold Ramp, the SUITCASE® Singlefold AS Ramp, and the SUITCASE® Trifold® AS Ramp today! 
Special Thanks to our Vendor, EZ-ACCESS for sharing tips on their products!